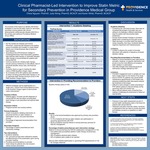 Publication Date
4-29-2020
Disciplines
Pharmacy and Pharmaceutical Sciences
Description
Clinical Pharmacist-Led Intervention to Improve Statin Metric for Secondary Prevention at Providence Medical Group – Southern Oregon Region
Chloe Nguyen, PharmD, Judy Wong, PharmD, BCACP, and Karen White, PharmD, BCACP
Background: Currently, there is a gap in meeting the statin metric at Providence Medical Group in Southern Oregon Region. The purpose of this project is to identify intervention strategies to improve statin metric for secondary prevention among patients with clinical atherosclerotic cardiovascular disease (ASCVD).
Methods: This quality improvement project was approved by the system's Institutional Review Board. Patients at least 18 years of age with diagnosis of clinical ASCVD not prescribed statin therapy or prescribed sub-optimal statin therapy were included. Different strategies were implemented at Central Point Family Medicine Clinic. A presentation was delivered to the providers in late December to address barriers with statin prescribing. Pre- and post-surveys were collected to assess the effectiveness of the presentation and knowledge of providers regarding statin prescribing in patients with clinical ASCVD. Chart reviews were performed in January on identified patients to provide recommendation to providers. The primary outcomes were to assess impact of academic detailing intervention on perceived barriers on statin initiation or optimization via pre- and post-surveys and to calculate the percentage of approved recommendation from providers. The secondary outcome was the percentage of statins prescribed per each intervention strategy: refer to clinical pharmacist for management, discuss statin therapy during the next appointment with provider, or update problem list and medication list.
Results: Prior to the intervention, a majority of providers believed that statins caused myopathy, liver injury, and rhabdomyolysis which can influence their decision when prescribing statin therapies and discussing statin treatment with patients. Post-survey results showed a slight decrease in belief that statins cause myopathy, liver injury, incidental diabetes, cognitive impairment and rhabdomyolysis. In addition, providers were more likely to retry a different statin or at a lower dose if patient had a documented intolerance to previous statin therapy following education.
In a sample of 35 chart reviews, 5 patients were receiving sub-optimal statin therapies, 7 had documented reason for statin intolerance, and 3 were not candidates to receive high intensity statin. A majority of recommendations were approved by providers. The most common intervention chosen by providers (51.4%) was to discuss statin options with patient in next office visit. However, no changes were observed from this intervention. Out of the 10 patients who were referred to clinical pharmacy services for management, 5 declined statin and 4 were unable to reach. Only one patient was successfully started on high intensity statin.
Conclusions: Beliefs and approaches to statin discussions are varied among PCPs and can be contributing factors for statin initiation or optimization. These results highlight the complexity of finding interventions that would be most successful for improving statin metric for secondary prevention among patients with clinical ASCVD. Nonetheless, we can be vigilant about working with providers to provide recommendations for the remaining patients with clinical ASCVD and create appropriate follow-up plans for those who were unable to be reached and those who do not have upcoming appointment with providers.
Department
Graduate Medical Education
Conference / Event Name
Academic Achievement Day, 2020
Location
Providence Medical Group, PGY2 Pharmacy Residency Program
Recommended Citation
Nguyen, Chloe; Wong, Judy; and White, Karen, "Clinical Pharmacist-Led Intervention to Improve Statin Metric for Secondary Prevention at Providence Medical Group – Southern Oregon Region" (2020). Providence Pharmacy PGY2 Program at Providence Medical Group 2020. 3.
https://digitalcommons.providence.org/pharmacy_PGY2/3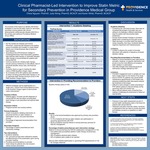 Included in
COinS