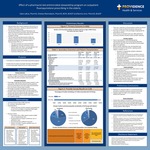 Publication Date
4-29-2020
Disciplines
Pharmacy and Pharmaceutical Sciences
Description
Title: Effect of a pharmacist-led antimicrobial stewardship (AMS) program on outpatient fluoroquinolone prescribing in the elderly
Authors: LaRue, Katie PharmD; Mannebach, Chelsea PharmD, BCPS, BCACP; Jiron, Bonnie, PharmD, BCACP
Introduction: The Center for Disease Control and Prevention, the Society of Infectious Diseases Pharmacists, and American Pharmacists Association recognize the need for outpatient AMS programs and the important role pharmacists play in appropriate prescribing. Fluoroquinolones (FQ) pose many risks, highlighted by U.S Food and Drug Administration safety warnings, including aortic dissection, hypoglycemia, mental health side effects, and tendonitis, along with the risk of Clostridium difficile infections, particularly in the elderly.
Outcomes: The primary outcome is to determine the change in the number of FQ prescriptions written for patients ≥65 years of age in the primary care setting between March 2018 and 2019, and March 2019 and 2020. Secondary objectives include determining the appropriateness of fluoroquinolone prescriptions before and after education intervention, and provider attitudes towards outpatient AMS.
Methods: Education on fluoroquinolone antibiotic risks, safety warnings, and guideline-directed uses was provided to prescribers in February 2020. During education, prescribers were given a report of the number of fluoroquinolones prescribed to patients ≥65 years of age during March 2018 and March 2019 with comparison to other prescribers. Data was collected for March 2020 and a similar report was given to prescribers. Approximately 15% of fluoroquinolone prescriptions were reviewed for secondary outcomes. Changes in fluoroquinolone prescriptions will be analyzed by Bayesian inference and secondary outcomes will be reported with descriptive statistics.
Results: There was a decrease in the total number of fluoroquinolone prescriptions in March 2020 (n=134) compared to March 2019 (n=200) and March 2018 (n=272). After secondary review of 15% of these prescriptions, there was an increase in appropriately prescribed fluoroquinolones from 2.4% in March 2018 (n=41) to 27.8% in March 2020 (n=18). Of 118 providers surveyed before and after the educational presentation, 6.8% correctly identified all risks associated with fluoroquinolone therapy prior to the education and 84.1% correctly identified all risks associated with fluoroquinolone therapy after receiving education. After the education, an increase in providers reported being very comfortable discussing the risks and benefits of FQ therapy with their patients, from 23% prior to the education to 65% after the education.
Conclusions: Provider education on risks associated with fluoroquinolone use in the elderly and individualized provider reports was associated with a decrease in total fluoroquinolones prescribed to patients ≥65 years of age in the included primary care clinics. Additionally, a higher percentage of fluoroquinolones were prescribed appropriately based on evidence-based guidelines. Ongoing AMS efforts are needed to continually improve patient safety and reduce unnecessary antimicrobial exposure.
Department
Graduate Medical Education
Conference / Event Name
Academic Achievement Day, 2020
Location
Providence Medical Group, PGY2 Pharmacy Residency Program
Recommended Citation
LaRue, Katie; Mannebach, Chelsea; and Jiron, Bonnie, "Effect of a pharmacist-led antimicrobial stewardship (AMS) program on outpatient fluoroquinolone prescribing in the elderly" (2020). Providence Pharmacy PGY2 Program at Providence Medical Group 2020. 4.
https://digitalcommons.providence.org/pharmacy_PGY2/4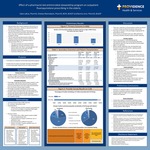 Included in
COinS