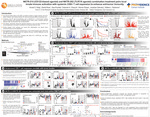 NKTR-214 (CD122-biased agonist) and NKTR-262 (TLR7/8 agonist) combination treatment pairs local innate immune activation with systemic CD8+ T cell expansion to enhance anti-tumor immunity
Poster presented at Society for Immunotherapy of Cancer Annual Meeting, Washington, D.C., November 7 – 11, 2018.
Description
Background: Radiation therapy (RT) remains the standard of care for many human cancers. Combining NKTR-214, a CD122-biased cytokine agonist conjugated with releasable polyethylene-glycol (PEG) chains, with local RT significantly enhanced therapeutic efficacy in preclinical models. Mechanistically, NKTR-214 provides sustained signaling through the IL-2 receptor pathway (IL-2Rβγ) to preferentially activate and expand effector CD8+ T and NK cells and RT modulates the tumor microenvironment (TME) to induce antigen-release. Together, NKTR-214/RT treatment resulted in improved therapeutic responses compared to either treatment alone. However, abscopal responses in murine tumors were modest, leading us to explore alternative approaches with the potential to elicit more robust tumor-antigen specific responses. In the current study, we evaluated the extent to which NKTR-262, a polymer-modified TLR7/8 agonist prodrug, modulates the TME and synergizes with NKTR-214 treatment. We hypothesized that NKTR-214/NKTR-262 immunotherapy would promote synergistic activation of immunostimulatory innate immune responses along with systemic adaptive anti-tumor responses to significantly improve abscopal responses, tumor regression, and overall survival.
Methods: Tumor-bearing mice (CT26; 4T1) received NKTR-214 (0.8 mg/kg; iv), RT (16 Gy x 1), and/or intratumoral NKTR-262 (0.5 mg/kg). The activation status of CD4+, CD8+, and NK cells in the blood, lymph node, and/or tumor (7 days post-treatment) was evaluated by flow cytometry. Effects on innate immune subsets (macrophages, monocytes) including M1/M2 polarization were evaluated by flow cytometry and immunohistochemistry (1 day post-treatment). Data represents the result of 1-2 independent experiments (n=5-14/group). For immune markers, statistical significance was determined using a 1-way ANOVA with a p-value cut-off of 0.05.
Results: NKTR-214/RT resulted in increased absolute lymphocyte counts and expression of T cell activation markers (Ki-67, PD-1, granzyme A) in the blood and tumor. Compared to NKTR-214/RT, NKTR-214/NKTR-262 resulted in significantly improved survival (p<0.05) and expansion of activated CD8+ T cells (GzmA+; Ki-67+; ICOS+; PD- 1+) in the blood (p<0.05). In the tumor, both combination treatments resulted in a similar CD8+ T cell density. NKTR-262/NKTR-214 induced higher frequencies of GzmA+ CD8+ T cells exhibiting reduced expression of suppressive checkpoint receptors PD-1+ and TIM-3+ (p<0.05). The increased CD8+ T cell differentiation was associated with a significant increase in M1 monocytes (p<0.05) and reduced presence of M2 monocytes.
Conclusions: Combined NKTR-214/NKTR-262 therapy induced robust anti-tumor immunity characterized by systemic CD8+ T cell expansion, enhanced intratumoral CD8+ T cell effector function, and favorable myeloid polarization resulting in improved tumor regression and tumor-free survival.
This paper has been withdrawn.