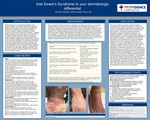 Publication Date
4-29-2020
Disciplines
Dermatology | Family Medicine
Description
Title: Add Sweet's Syndrome to your dermatologic differential
Authors: Dr. Elizabeth Deyo, Dr. Mike Waddick
Context: Sweet's Syndrome, an uncommon acute painful inflammatory rash, can be easily misdiagnosed. Early recognition and treatment can speed clinical recovery for patients with this difficult condition.
Objective: Here we describe an interesting case report of Sweet's Syndrome in one of our patients in order to help providers remember this diagnosis on their dermatologic differential diagnosis.
Case report synopsis: Our 44 year old male HIV positive patient with type 2 diabetes mellitus presents with athralgias, chills, malaise and a plaque-like rash on the back of his neck, head and right wrist. Course: Lab work-up with blood culture, crp, cbc, cmp, HIV viral load, RPR, and biopsy were performed. The biopsy confirmed neutrophilic dermatosis consistent with Sweet's Syndrome. The patient was started on treatment after biopsy results returned. The patient had rapid improvement with treatment.
Treatment: Prednisone 30mg daily for 7 days, then tapered over 5 weeks.
Conclusion: Sweet's Syndrome, an acute febrile neutrophilic dermatosis, is an uncommon inflammatory skin condition characterized by the abrupt onset of painful erythematous papules, plaques or nodules and systemic symptoms. The disease is classified into classical (idiopathic), malignancy-associated and drug-induced Sweet's Syndrome. While uncommon, primary care physicians should be familiar with the clinical presentation, diagnosis and initial management of this disease; and add it to their differential diagnosis when faced with acute painful rashes as described above. Key points include the diagnostic criteria, clinical appearance, and initial treatment of Sweet's Syndrome.
Department
Family Medicine
Department
Graduate Medical Education
Conference / Event Name
Academic Achievement Day, 2020
Location
Providence Oregon Family Medicine Residency, Milwaukie, OR
Recommended Citation
Waddick, Michael and Deyo, Elizabeth, "Sweets Syndrome: A Case Report" (2020). Milwaukie Family Medicine 2020. 7.
https://digitalcommons.providence.org/milwaukie_family/7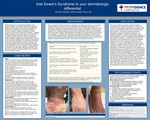 Included in
COinS