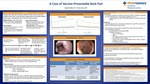 Keywords
oregon; portland; ppmc
Disciplines
Internal Medicine
Description
The Case 55-year-old male with minimal medical history who presented multiple times over 9 months with progressive and severe gluteal & back pain, ultimately found to be from anal cancer.
HPV - The Bad, Insidious Bug
What is it? •Human Papillomavirus (HPV) is a double-stranded DNA virus of the Papillomaviridaefamily. Its lifecycle is tied to epithelial tissue. Why do we care? •HPV is associated with warts (including condyloma acuminatum) and cancer •Approximately 45,000 HPV-associated cancers occur in the US each year •7,083 -anal cancer •12,143 -cervical cancer •19,975 -oropharyngeal cancer What About Anal Cancer? •Affects ~1.6/100,000 women, and 1.0/100,000 men in the United States •Rates increase in men who have sex with men (MSM) at rates of 35/100,000 of those who are HIV-negative and 70-100/100,000 in those who are HIV-positive •5-year survival is 82% if T2N0, 42% survival if T4N+.
Anal Cancer - Decreasing the Risk
Vaccination •One studied showed an incidence rate ratio for HGSIL in females vaccinated for HPV compared to an unvaccinated population was 0.516 •Likely translates to other HPV-related disease, but further studies are needed Screening •One retrospective study -39% lower mortality risk in anal SCC in areas with higher anal dysplasia screening rates1 •No consensus on who should be screened for anal cancer and what the primary modality should be. •Recommended in HIV-infected MSM •Consider screening in: •HIV+ men & women •MSM •HIV-negative women over the age of 45 with cervical HPV 16 •Pts with history of anal warts •Women with a history of high-grade cervical, vulvar or vaginal dysplasia or cancer •Immunosuppressed patients
Learning Points
1. Anal cancer may present in an atypical fashion. It is important to consider it in the differential of buttock/back pain, particularly for patients with risk factors 2. HPV is associated with cancers that are preventable through cancer screening & vaccination. 3. No standardized methodology or guidelines exist for evaluation of anal cancer, but studies are underway. 4. Certain subpopulations with risk factors that predispose them to an increased risk of anal cancer should be screened for this disease.
Clinical Institute
Cancer
Department
Internal Medicine
Department
Graduate Medical Education
Conference / Event Name
Academic Achievement Day, 2021
Location
Providence Portland Medical Center
Recommended Citation
Hutfles, Gerald and James, Tricia, "A Case of Vaccine-Preventable Back Pain" (2021). Providence Portland Medical Center Internal Medicine 2021. 4.
https://digitalcommons.providence.org/oaa_ppmc_21/4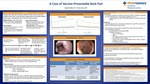 Included in
COinS