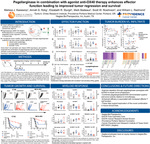 Pegzilarginase in combination with agonist anti-OX40 therapy enhances T cell priming and effector function leading to improved tumor regression and survival
Poster presented at Society for Immunotherapy of Cancer Annual Meeting, Washington, D.C., November 7 – 11, 2018.
Description
Background: Tumor cells defective in enzymes required for arginine biosynthesis are dependent upon arginine uptake from the environment. Extracellular depletion of arginine directly affects tumor cells, inducing autophagy and apoptosis. Pegzilarginase (AEB1102) is a bioengineered, pegylated, human arginase 1 (Aeglea Biotherapeutics) currently in phase I clinical trials. This arginine-depleting agent has been shown to both inhibit arginine auxotrophic tumor growth and to enhance the efficacy of PD-L1 blockade in preclinical models. In the current study, we investigated the therapeutic efficacy and mechanism of action of combined pegzilarginase/anti-OX40 (aOX40) immunotherapy. We hypothesized that pegzilarginase/aOX40 treatment would synergize to enhance T cell priming and effector function leading to improved tumor regression and survival.
Methods: Efficacy studies were conducted in CT26 (colon) or MCA-205 (sarcoma) tumor-bearing mice. Eight days after subcutaneous tumor implantation, mice were treated with pegzilarginase (3 mg/kg; q7dx4; ip) and/or aOX40 mAb (10 mg/kg; d8, d12; ip). Seven days post-treatment (d15), the phenotype and effector status of T cells and myeloid populations within the lymph nodes (LN) and tumor were evaluated by flow cytometry. In additional cohorts, gene expression profiling (single cell RNAseq; scRNAseq) was performed 3 days post-treatment (d11). Survival studies were conducted in both models with tumor measurements taken twice weekly until tumor burden was greater than 150mm2. Data represents the results of 2-3 independent experiments (n=10/group) and for phenotyping assays, significance was determined by using a one-way ANOVA with a p-value cut-off of 0.05.
Results: We observed a significant reduction in tumor growth and increased overall survival following pegzilarginase/aOX40 therapy versus monotherapy in CT26 (p<0.01) and MCA-205 (p<0.01) tumor-bearing mice. Flow analysis revealed increased CD8+ T cell activation and effector function, as evidenced by higher levels of granzyme A, IFN-g and TNF-a. Evaluation of tumor infiltrating lymphocytes (TIL) showed increased granzyme A+ CD8+ T cells, but no differences among effector CD4 T cells, supporting the hypothesis that pegzilarginase /aOX40 therapy augments CD8 T cell-mediated anti-tumor immunity. Preliminary analysis of MDSC populations suggests a trend toward higher PD-L1 expression following combination therapy.
Conclusions: Collectively, these data demonstrate that pegzilarginase in combination with OX40 agonists can significantly impair tumor growth while promoting both T cell proliferation and effector function. These insights support further exploration of this novel combination approach in future clinical trials.
This paper has been withdrawn.