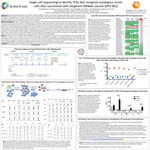 Description
Background: Adoptive immunotherapy with tumor-specific TCR gene-modified T cells has the potential to eradicate bulky disease. Traditional methods of TCR identification require lengthy in vitro culture to generate clonal T-cell populations, which adds time and complexity to this promising therapy. Here we described a simplified and reliable method to identify TCRs by single cell TCR sequencing of cells sorted with antibodies against T-cell surface markers that are up-regulated only when they are stimulated with specific tumor cell antigens.
Methods: A tumor-infiltrating lymphocyte (TIL) culture with T cells reactive against autologous tumor was generated from a brain metastasis of a patients with NSCLC. A panel of antibodies against T-cell surface antigens was screened to identify markers that are specifically up-regulated after stimulation with autologous tumors but not with related allogeneic tumor cells. Tumor-specific T cells were sorted from TIL with three suitable antibodies and expanded by a rapid expansion protocol. Expanded T cells were examined for their tumor-specificity and subjected to single cell TCR sequencing using the 10X genomic system. The top 10 TCRs were identified by bio-informatics approach and the corresponding alpha and beta chains were synthesized and cloned into a retroviral vector based on MSG backbone. PBMC from healthy donors were transduced with the retrovirus supernatant after activation. Tumor- reactivity of transduced T cells was determined after expansion in media supplemented with IL-2, IL-7, and IL-15. To identify tumor-specific TCRs in PBMC from the same patient after vaccination with allogeneic DRibbles, we also developed a protocol to expand tumor-specific T cells from PBMC with in vitro stimulation with DRibble- loaded PBMC.
Results: We identity CD94, CD137(4-1BB), CD355 (CRTAM) as specific markers for antigen-specific activation of T-cells by autologous tumor cells, whereas other "check point" markers such as CTLA-4, PD-1, Tim3, CD39, CD103 were up-regulated by stimulation with unrelated tumor cells. These antibodies were successfully used to sort and enrich tumor-specific T cells. The top 10 TCRs from each sorting were different but with overlapping clones. Five TCR clones were tumor-specific and capable to recognize the autologous tumor cells when they were expressed on T- cells from health donors. Additionally, ex-vivo culture of vaccine stimulated PBMC from a post-vaccine timepoint generated T cells enriched for activity against autologous tumor.
Conclusions: We developed a simplified work flow to identify tumor-specific TCRs. This flow will be further improved with antibody with DNA bar codes and used to identify tumor-reactive TCRs in a streamlined fashion.
Acknowledgements: The study was supported by Providence Portland Medical Foundation and NCI SBIR grant R44 CA121612.
Ethics Approval: The study was approved by EACRI Institutution's Ethics Board, approval number IRB: PDX06-108
Clinical Institute
Cancer
Department
Earle A. Chiles Research Institute
Keywords
Cancer, immunotherapy, cancer vaccines, T cells, tumor infiltrating lymphocytes, TIL, T-cell receptor sequencing, TCRseq
Recommended Citation
Hu, Hong-Ming; Paustian, Christopher C.; Wen, Zhifa; Moudgil, Tarsem L.; Hilton, Traci L.; Bookhardt, Sam; Yu, Guangjie; Tran, Eric; Rajamanickam, Venkatesh; Urba, Walter; Sanborn, Rachel E.; and Fox, Bernard A., "Single cell sequencing to identify TCRs that recognize autologous tumor cells after vaccination with allogeinic DRibble vaccine" (2018). Society for Immunotherapy of Cancer 2018 Annual Meeting Posters. 2.
https://digitalcommons.providence.org/sitc2018/2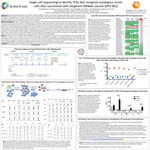 Included in
COinS