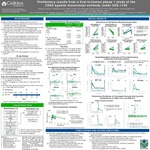 Description
Background: Agonist CD40 mAbs can mediate antitumor immunity through multiple mechanisms, including enhancing tumor antigen presentation, activation of tumoricidal macrophages, and direct growth inhibition/killing of CD40- expressing tumor cells. To fully exploit these mechanisms may require the mAb to be dosed at levels that provide significant tumor and tissue penetration, without dose-limiting-toxicities (DLT) from systemic CD40 activation. Our agonist CD40 mAb, CDX-1140, was selected based on its unique and linear dose-dependent in vitro and in vivo activity and is postulated will achieve maximum agonist activity at dose levels associated with good systemic exposure. CDX-1140 is a fully human IgG2 agonist anti-CD40 mAb that activates dendritic cells (DCs) and B cells in an Fc receptor independent manner and has potent antitumor activity against CD40-expressing cancer cells. In addition, CDX-1140 does not block the natural CD40-CD40L interaction; combination of CDX-1140 with added soluble CD40L is synergistic in the activation of immune cells suggesting a potential to enhance in vivo CD40L dependent immune responses. In toxicology studies, CDX-1140 demonstrated potent CD40-mediated pharmacological effects without significant toxicities.
Methods: A phase 1 dose-escalation study of CDX-1140 (CDX1140-01; NCT03329950) is underway in patients with advanced tumors who have exhausted standard-of-care treatment options. The primary endpoint is determining the safety profile and maximum tolerated dose. Secondary endpoints include pharmacokinetics, immunogenicity, clinical and biological outcome assessments. Baseline and on-study biopsies will be used to explore the pharmacodynamic effects of CDX-1140 in the tumor microenvironment (TME). The dose escalation (DE) portion evaluates CDX-1140, given every 4 weeks, at doses from 0.01 to 3 mg/kg; the first 2 cohorts are single-patient cohorts and all subsequent DE cohorts are conducted utilizing a 3+3 design. Tumor-specific expansion cohorts will further explore the activity of CDX-1140. This study will also evaluate CDX-1140 in combination with CDX-301 (rhFLT3L), a DC growth factor that markedly increases DC numbers, including the CD141+ subset which are critical to an antitumor immune response and are often scarce within the TME.
Results: To date, CDX-1140 cohorts at 0.01 (n=2), 0.03 (n=1), and 0.09 (n=3) mg/kg have been completed without any drug-related serious adverse events, infusion reactions, or DLTs reported. The only drug related toxicity has been grade 1 fatigue (n=2) . Expected pharmacodynamic effects, including transient, dose-dependent decreases in lymphocyte counts and dose-dependent increases in serum IL-12p40 and TNF-Alpha, have been observed.
Conclusions: The early data suggest that CDX-1140 has the expected immune activating and safety profile.
Ethics Approval: The study was approved by University of Pennsylvania, approval number 828733; Mount Sinai School of Medicine, approval number IRB-18-00213; Providence Health and Services, approval number 201700532 and Western Institutional Review Board, approval number 115925
Clinical Institute
Cancer
Department
Earle A. Chiles Research Institute
Keywords
Cancer, tumor microenvironment, cancer immunity, immunotherapy, clinical trial
Recommended Citation
Sanborn, Rachel; Gordon, Michael S.; O'Hara, Mark; Bhardwaj, Nina; He, Yi; Rawls, Tracey; Keler, Tibor; and Yellin, Michael, "Preliminary results from a first-in-human phase 1 study of the CD40 agonist monoclonal antibody (mAb) CDX-1140" (2018). Society for Immunotherapy of Cancer 2018 Annual Meeting Posters. 8.
https://digitalcommons.providence.org/sitc2018/8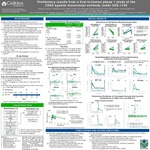 Included in
COinS