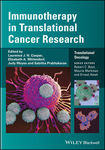 Title
Somatic Mutations and Immunotherapy
Description
A volume in the Translational Oncology series, Immunotherapy in Translational Cancer Research explores the recent developments in the role that immunotherapy plays in the treatment of a wide range of cancers. The editors present key concepts, illustrative examples, and suggest alternative strategies in order to achieve individualized targeted therapy. Comprehensive in scope, Immunotherapy in Translational Cancer Research reviews the relevant history, current state, and the future of burgeoning cancer-fighting therapies. The book also includes critical information on drug development, clinical trials, and governmental resources and regulatory issues.
Each chapter is created to feature: development of the immunotherapy; challenges that have been overcome in order to scale up and undertake clinical trials; and clinical experience and application of research. This authoritative volume is edited by a team of noted experts from MD Anderson Cancer Center, the world's foremost cancer research and care center and:
Offers a comprehensive presentation of state-of-the-art cancer immunotherapy research that accelerates the pace of clinical cancer care
Filled with the concepts, examples, and approaches for developing individualized therapy
Explores the breath of treatments that reflect the complexity of the immune system itself
Includes contributions from a panel international experts in the field of immunotherapy
Designed for physicians, medical students, scientists, pharmaceutical executives, public health and public policy government leaders and community oncologists, this essential resource offers a guide to the bidirectional interaction between laboratory and clinic immunotherapy cancer research.
Clinical Institute
Cancer
Book / Chapter Details
In: Immunotherapy in Translational Cancer Research.
Laurence J. N. Cooper (Editor) , Elizabeth A. Mittendorf (Editor) , Judy Moyes (Editor) , Sabitha Prabhakaran (Editor)
ISBN: 978-1-118-12322-5
May 2018, Wiley-Blackwell
Recommended Citation
Tran, Eric, "Somatic Mutations and Immunotherapy" (2018). Books, Presentations, Posters, Etc.. 1.
https://digitalcommons.providence.org/other_pubs/1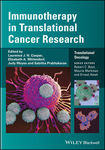 COinS