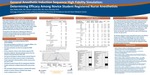 Keywords
School of Anesthesia
Disciplines
Anesthesiology | Medical Education | Nursing
Description
Background High Fidelity Simulation (HFS) is used across multiple health professions. Despite the wide variety of clinical experiences that Student Registered Nurse Anesthetists (SRNA) possess prior to training, the induction sequence to a General Anesthetic (GA) is a daunting task. Although the efficacy of HFS has been widely studied within undergraduate nursing programs, there are no studies published determining the efficacy of HFS on SRNA training. The purpose of this study was to determine the efficacy of simulation training amongst entry-level SRNA's and examine any individual participant factors that may influence clinical performance within HFS.
Methods • Human subjects were protected (Spokane IRB ID: STUDY18000465) • Pilot study participants recruited from 1st semester SRNAs in the Doctorate of Nurse Anesthesia Practice (DNAP) • Full study participants recruited from prospective DNAP students • Primary endpoints: efficacy of GA induction sequence HFS • Secondary endpoints: individual participant factors that may influence clinical performance within HFS • Scoring tool developed to measure primary outcome (Figure 2) • PowerPoint and didactic lecture provided to all participants • Pretest assessment following didactic training, using scoring tool, prior to HFS • Participants guided through HFS and subsequently debriefed • Posttest assessment completed following HFS using scoring tool • Each participant allotted 60 minutes for individual HFS session • Analysis of variance utilizing a waitlisted study design • A priori confidence level (α < 0.05)
Discussion Our sufficiently powered study detected a 29.0% (mean pre-test 23.7, mean post-test 33.4) improvement in Simulation Assessment Tool scores following HFS (p < 0.001). Despite variations in pre HFS scores, post HFS scores remain homogeneous across all participants confirming the effectiveness of our training. Our study also indicated that there were no statistically significant group differences in HFS pre-test scores amongst the participants for the demographic factors we assessed; type of ICU (p=0.76), years of ICU experience (p=0.36), and age (p=0.91). GA induction sequence training using HFS was proven to be effective among novice SRNA's. In alignment with the current research evidence, the use of HFS among SRNA's may help to improve learning, self-efficacy, and subsequently patient safety. Doctoral nurse anesthesia programs should consider the integration of HFS throughout program curriculum.
Department
Anesthesiology
Conference / Event Name
AANA 2019 Congress
Recommended Citation
Wilkie, Alex; Urbick, Steven; and Daratha, Kenn B, "General Anesthetic Induction Sequence High Fidelity Simulation: Determining Efficacy Among Novice Student Registered Nurse Anesthetists" (2019). Books, Presentations, Posters, Etc.. 112.
https://digitalcommons.providence.org/other_pubs/112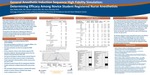 COinS