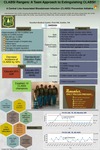 Disciplines
Medicine and Health Sciences
Description
Purpose: Decrease incidence of Central line Associated Bloodstream Infection (CLABSI) in the ICU/IMCU at Swedish Medical Center by August 31st 2018, with the overall goal of zero CLABSI stemming from the ICU's.
Synthesis of Evidence: A review of CLABSI costs, the problem as a whole, and products that help decrease CLABSI was completed. Swedish's current CLABSI state was discussed and ways to improve existing practices investigated. Ideas to engage and educate patients, family and staff in order to bolster infection prevention practices was reviewed.
Change in practice: Based on the evidence and our protocols we began reviewing patient charts for the existence of central line flush orders and discovered they were not being ordered as they should be. We developed a way to catch missing orders by discussing saline flushes during Medical Directed Rounds (MDR's) and later adopted the intervention. We developed a central line order-set to streamline central line orders. We trialed products making dialysis lines a closed system and educated staff regarding its use. We switched the practice of accessing dialysis catheters using betadine to utilizing alcohol due to its similar efficacy and faster dry time. Many of these changes not only effected ICU practice but the entire First Hill campus.
Implementation: Staff were educated extensively on new products brought in to create a closed dialysis system, products available for patient/family education and documentation in EPIC. We also filmed a series of four short educational videos designed to engage and educate staff. Saline flushes were added to daily rounds sheets to insure they were flushed per protocol and lastly, we required that 1:1 return demonstrations occur for nurses who access dialysis lines.
Evaluation: At nine months post implementation, the Surgical Intensive Care Unit (SICU) had incurred two CLABSI, the Medical ICU (MICU) and Intermediate Care Unit (IMCU) have remained CLABSI free. This is equivalent to an 80% reduction in CLABSI when compared to the same time period the year prior. 93% of RN's who access dialysis lines were educated and audits of charts show an increase in patient central line education from 41-71%. Target Standardized Infection Ratio (SIR) of < 1 has been met or exceeded and the number of champions recruited has been exceeded as well. Target Standardized Utilization Ratio (SUR) has not been impacted as we had hoped.
Conclusion: Implementing a group of 4 bedside RN's interested in improving CLABSI rates in the ICU has been effective in decreasing the incidence of CLABSI on the units. Change was affected by educating staff via short videos, posting scrub the hub signage and central line education in patient rooms, implementing saline flush orders during MDRs, the addition of new products keeping the dialysis catheter a closed system and requiring return demonstrations of proper dialysis access. Use of incentives helped to bring about compliance and rewards staff for their excellent work.
Presenting Author: Alisa Bowman RN, CCRN, Nurse Quality Leader for Infection Prevention, Swedish Medical Center, FH ICU
References
Department
Health Care Administration
Conference / Event Name
Institute for Healthcare Improvement (IHI) Forum on Quality Improvement in Healthcare
Location
Orlando, FL, United States
Recommended Citation
Bowman, Alisa; Bartlett, Christine; Gattis, Sarah; Hartmann, Staci; LeSage, Eddie; Mosher, Heidi; Picket, Joya; and Potts, Sarah, "CLABSI Rangers: A Team Approach to Extinguishing CLABSI" (2018). Books, Presentations, Posters, Etc.. 14.
https://digitalcommons.providence.org/other_pubs/14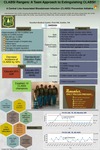 Included in
COinS