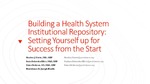 Disciplines
Cataloging and Metadata | Collection Development and Management | Health Sciences and Medical Librarianship | Library and Information Science | Scholarly Communication | Scholarly Publishing
Description
Background: While more common in university settings, institutional repositories (IR) have a place within hospitals and healthcare systems too, though the challenges in creating them may be different. This paper looks at the development of a Digital Commons institutional repository at Providence St. Joseph Health. The authors present the necessary steps for a successful initiative beginning with the planning process and building from there. Highlighted are some of the different challenges faced in non-academic settings; considerations when selecting a platform and designing and structure; and recommendations for doing outreach and promotion to unique user groups.
Description: Library staff proactively followed trends in IRs and prepared for future state. Identifying technology requirements and platform options, exploring other health system IRs, and building a search algorithm to capture the affiliations within a newly merged enterprise meant that when approached by senior leadership about publication tracking the library was well positioned for success. Library staff selected a platform, determined the repository's scope, and identified key stakeholders. An implementation plan included securing funding and executive support, hiring a librarian, and developing a framework for year 1 of the project. A complex organization presented unique challenges when designing a metadata and taxonomy structure. Getting buy-in from clinicians required a strong elevator pitch, and a direct tie to the organization's strategic goals. Anticipating organizational needs meant a platform able to accommodate datasets, visual collections, Magnet documentation, and locally-published peer-reviewed journals
Conclusion: Digital Commons launched in July 2018, and within 3 months was populated with 700+ publications and included profiles from several world-renowned researchers. A successful Year 1 is on track and will be measured by hitting a publication target of 1000 and successfully importing all 2018 affiliated publications from PubMed. Library staff is now focused on marketing and outreach, with the intention to rapidly grow the Expert Gallery to include individuals from a diverse representation of disciplines and health system markets, increase submission of non-periodical scholarly activity, and to form collaborative partnerships for growth into new areas like datasets, and video.
Department
Library Science
Conference / Event Name
Medical Library Association Annual Meeting
Location
Chicago, IL, United States
Recommended Citation
Martin, Heather J.; Delawska-Elliott, Barbara (Basia); and Dickman, Daina, "Building a Health System Institutional Repository: Setting Yourself Up for Success from the Start" (2019). Books, Presentations, Posters, Etc.. 59.
https://digitalcommons.providence.org/other_pubs/59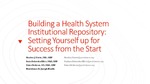 COinS