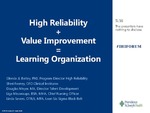 Publication Date
12-9-2018
Disciplines
Medicine and Health Sciences
Description
Experience how the 3rd largest nonprofit health-system is becoming a learning organization. Engaging frontline staff in high reliability and improvement skills is critical to a High Reliability Learning Organization (HRLO). Leaders and staff pursuing daily improvement deliver greater value to patients, each other, business operations, and their communities. Participants will learn how to combine HRO and improvement science so everyone has the skills, will, and freedom to provide more affordable care and attain zero harm.
Objectives:
Identify successful elements and challenges of implementation and spread of our high reliability behaviors.
Demonstrate how HRO behaviors are the foundation for daily improvement across a large organization.
Apply Clinical Value Improvement to empower employees to improve their job, quality, and affordability.
Learn how HRO and CVI are integral to PSJH's strategic plan and leadership development.
Department
Health Care Administration
Conference / Event Name
Institute for Healthcare Improvement (IHI) Forum on Quality Improvement in Healthcare
Location
Orlando, FL, United States
Recommended Citation
Feeney, Sheri; Mezaraups, Liga; Meyer, Douglas; Battey, Glenda; and Severs, Linda, "High Reliability + Value Improvement = Learning Organization" (2018). Books, Presentations, Posters, Etc.. 11.
https://digitalcommons.providence.org/other_pubs/11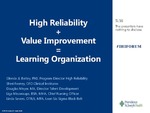 Included in
COinS